Browse Reports
Subject is exactly
Chicago Tribune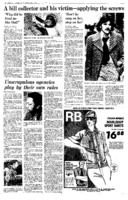 The Chicago Tribune's Task Force lead a six-week investigation working in eight debt collection agencies to compile this chronicle of the abuse debt collectors impose.
The Chicago Tribune's Task Force, composed of director George Bliss and reporters Philip Caputo, William Currie, William Jones, and Pamela Zekman, investigate the waste of money in county government in this eleven part series.
In this Pulitzer Prize winning series, Chicago Tribune Staff Writers reveal the issues behind the scenes at O'Hare International Airport and "why airport travel had gotten so bad." Although there is no explicit indication of the use of any subterfuge, which the Tribune no longer supports, informed readers had the sense that some of the information had to have been obtained without the professional affiliation of the reporters being known to staff.