Browse Reports
Subject is exactly
investigative journalism
A collection of Dick J. Reavis' works pertaining to undercover journalism.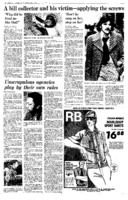 The Chicago Tribune's Task Force lead a six-week investigation working in eight debt collection agencies to compile this chronicle of the abuse debt collectors impose.
 Books (and more) that consider journalism ethics and also include significant discussion of undercover reporting.